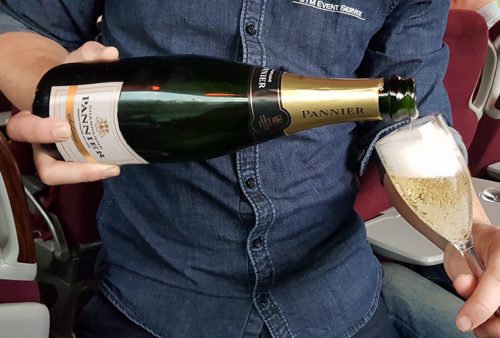 Are you a returning guest on a weekend trip of champagne-reizen.nl and are you introducing at least two new friends during that same weekend?

Then we will add some extra sparkle to your journey! On the bus to France you and your friends will be served a complimentary bottle of Champagne to truly start off the weekend. Isn't that something to look forward to?

Terms and conditions Bring a Friend promotion
With this promotion we want to show our appreciation to our returning guests who introduce new people to champagne-reizen.nl by offering a free bottle of Champagne. As with all promotions, also with ours some terms and conditions are applicable when you participate:

Participating in the 'Bring a Friend' promotion is absolutely free!
You are eligible for this promotion if you yourself have participated in one of the previous public champagne-reizen.nl weekend trips (hence excluding private group trips) and are also our guest during one of the 2022 Champagne weekends.
Your friends have never travelled before with champagne-reizen.nl.
You will automatically enter this promotion when your friends have made a reservation for their own room by filling out their personal details in the booking form for the same weekend as you have booked a room for.
To qualify for this promotion it is mandatory that your friends state your name in the applicable input field on the booking form. Only then a booking will be rewarded the bottle of Champagne.
This promotion is valid for all 2022 weekend trips of champagne-reizen.nl. This means that you have plenty of time to earn one of those delicious bottles!
You can qualify for this promotion more than one time. One complimentary bottle of Champagne is available for every trip you book.
To participate in the trips of champagne-reizen.nl -and therefore also to claim this promotion- you need to be at least 18 years of age.
The complimentary bottle of Champagne cannot be exchanged for money or other drinks and should be consumed during the bus ride.
Feel free to contact champagne-reizen.nl in case of questions or complaints about this promotion. For details, please see our contact page.